Why Use Chromebook for Schools?
What is a Chromebook?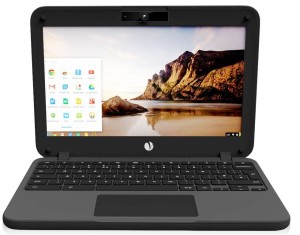 A Chromebook is a laptop running Chrome OS as its operating system. The devices are designed to be used mainly when they are connected to the Internet, with most applications and data stored in  "the cloud". This make chromebook for school an ideal choice.
Cost effective and competitive on pricing
You can buy a Chromebook for under £150.  Chromebook can save you PC maintenance costs because it has minimal data stored in so you do not need any extra purchase of Antivirus and backup software. In addition, you do not need to worry about hardware upgrades because all of your work can be done by Chrome browser and web apps. Therefore, admin can easily configure Chromebooks and manage all user accounts centrally through the internet.
Speed
The Chromebook boots up extremely fast, from switching it on and it'll be running in less than 10 seconds. Quicker than the average Laptop
Google says 'within seconds, you're on your favourite sites and apps.
Efficiency and battery power
One main feature of Chromebook is its all-day battery life which is great for using in the classroom. No need to bring a power charger everywhere as these devices offer you a long 8.5 hours superb battery life compared to normal netbook which normally provides 3-4 hours of battery life.
Cloud Friendliness
Because your files are saved online rather than to your actual laptop, you can access them from any device anywhere – all you need is an internet connection.
Reliability
Your Chromebook will automatically update with the latest anti-virus and other software so you do not need to worry.
Each time you switch on your Chromebook it will check for updates and install any that come up. This means you'll always have the latest version of the OS. It does all of this at no extra cost too.
If you would like to know more about chromebook for school or other devices for your school give us a call 01494 611 465  or visit our resources page.
https://edde.education/wp-content/uploads/2018/01/edde_logo.png
0
0
Jeff Evans
https://edde.education/wp-content/uploads/2018/01/edde_logo.png
Jeff Evans
2016-07-06 10:06:41
2016-08-30 10:57:27
5 Reasons to use Chromebook in Education