Introducing gaming into the classroom
It only seems natural that the thought of introducing video games into schools may seem a little strange to some. However, the introduction of new technology including both gaming and VR can provide a wide range of benefits to both students and teachers.
Studies have shown that playing domestic video games improves visual attention and spatial-motor skills. It is important to remember that these are educational video games and simulators. For all the students thinking they are going to be levelling up on Fortnite, that is sadly not true. These educational games are being used to help teach algebra, biology, computer programming, flight training and more.
BuildAWorld
An example of one of these games is BuildAWorld, which is a next generation interactive 3D simulation educational learning platform, designed to engage students with real world scenarios and phenomena.
Real world scenarios and lessons, so they can learn about sustainability, urban planning and energy.
Learn how to build, simulate and experiment, for example by setting up wind turbines and measuring their effect.
An immersive visual experience, so they will actually see how to build and experiment with a nuclear reactor.
What are the benefits?
Social and psychological benefits of gaming
Let's take a look at some of specific benefits it can have on students. The majority of these educational games require students to work together in teams to put together strategies, achieve a goal and compete against each other. Therefore helping develop a range of soft skills:
Team Building
Leadership skills
Communication Skills
Self Esteem
Improves critical thinking
With the introduction of virtual, augmented and mixed reality brings immersive learning experiences to students. A history lesson on ancient Egypt can come alive when a student puts on a VR headset and walks through a digital version of what it was like. It has been said by teachers that "Students must exercise critical thinking, resilience, and creative problem solving to succeed in an alternate reality game."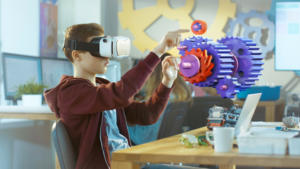 Technical Skills
It is important for students to learn basic technology skills at an early stage. The working environment they will be entering will demand this as technology becomes more and more advanced. This also makes coding and programming highly valuable skills that students can learn.
How can edde help?
If you are considering about bringing technology into your classroom then please get in touch. Whether it is laptops, tablets, VR or PC's then edde can help you with the supply, leasing and insurance of this tech. Feel free to send an email to hello@edde.education or give us a call on 01494 611 456.